Dear spirit sisters,
The final chapter in my last book, Love Never Dies, is called "The Path Winds and I Follow," which describes both the trajectory of my daily walk around my neighbourhood—with its hills and curvy footpaths—and the trajectory of my spiritual life.
I suspect that I'm not alone in feeling that the path unfolds before me, and the universe, in perfect divine timing, places signposts to guide me on the way. I'm directed where to go next, step by small step. And so it was that one day, maybe in late 2013, I was flicking through Oprah magazine, and an article about her seven favourite soulful reads caught my eye. I shared it with my sister, Natalie, and we decided to read every one of the spiritual books on her list …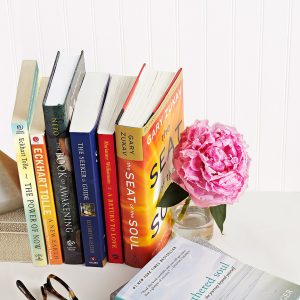 I am not sure if we could have imagined then, that some three years later, Natalie and I would be publishing an inspirational book of our own. It's called AWAKEN: The Search is over, and it's full of insights that we've gleaned during the last few eventful, eye-opening, heart-expanding years of finding our way back to our true selves—of heeding the call of the soul.
I find it extraordinary because, even though, ostensibly, it was reading Oprah's list of soulful books that eventually birthed AWAKEN, if I travel far, far back into my memory, I know this is a path I've been on since I was a child. As a little girl listening, entranced, to my mum's stories of premonitions about the deaths of loved ones, I was on the path. As a child fascinated by spooks and mysteries, I was on the path. As a schoolkid who yearned to connect with something vast and all-encompassing that I felt lay beyond our world of the senses, I was on the path. As the first-time author who published Spirit Sisters, a collection of women's experiences of the paranormal, I was on the path. As the magazine journalist who had the chance to interview Deepak Chopra and see Wayne Dyer on stage a week before his passing, I was on the path.
And so it continues, and I am happy to surrender to the Divine Intelligence steering the ship—AWAKEN, the first book Natalie and I have co-authored, represents the manifestation of our joint decision to allow this Divine Intelligence to flow through us, unhindered. Many of the insights it contains arrived via Nat's meditations, from a realm beyond the three-dimensional plane of our everyday lives. We call it a little book that creates big changes, and our ardent hope is that it helps put you on your own path back to your soul.
Love,
Karina x