A "horny ghost" hits the headlines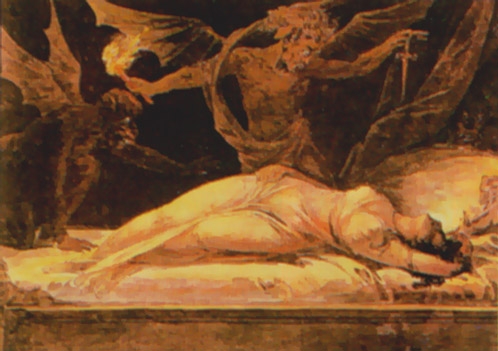 Darwin mum Jennifer Mills-Young made international headlines this week with the story of her randy resident ghost, Kevin. In the wash-up of paranormal stories that hit the web and the press each week, this one seems to have stood out mainly thanks to the use of the word "horny" in the headline, and to be fair to Ms. Mills-Young, it's not a word she appears to have uttered in the interview. Her story may seem a new and amusing angle in paranormal news, but according to myth and legend, the idea of an amorous ghost has been around for centuries: there are variations, but in general, the male version (ie, who seeks to interfere with sleeping women) is known as an incubus, and the female is a succubus.  Ms Mills-Young is certainly not alone in her contemporary account of the phenomena. A quick on-line search yielded a multitude of such stories, most of which I make for intriguing and/or unsettling reading.
Thinking of the hundred or so women I corresponded with when I was researching Spirit Sisters,  I couldn't recall one with an experience like this to share. But then I remembered that a story I've just finished working on for Where Spirits Dwell concerns a woman who was plagued for 15 years by the spirit of an older man who insisted on trying to get into her bed, even when her partner was sleeping beside her. Intriguing …
As for Ms. Mills-Young, this wasn't the first time I'd heard of her. Last year, I came across her collection of stories ("Growing up haunted in Sydney") documented on the website  trueghosttales.com, and for a while, she was on my list of interviews to potentially pursue. Yet another example of how few degrees of separation divide the local paranormal community came when I was reading a follow-up to the "horny Kevin" saga: ghost hunter Jason King has offered to travel to the Northern Territory and clear Kevin, free of charge. I chatted to Jason some months ago when he responded to my call-out for experiences in the Daily Telegraph … he was bursting with stories, as I recall, of six-foot shadows at the Quarantine Station, and phantoms he'd spotted during his regular gig as a security guard. Perhaps there's a good Q&A in this. Watch this space.